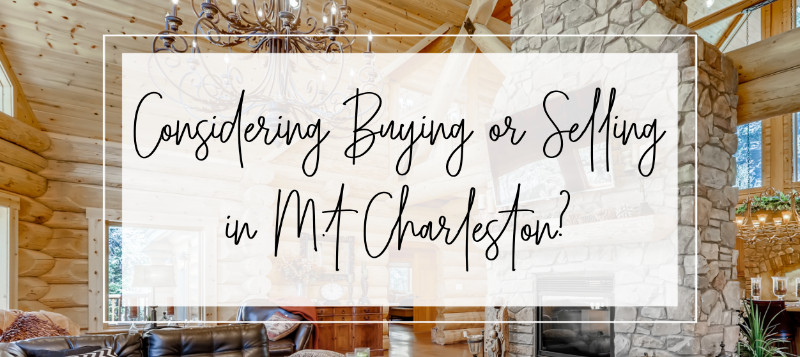 Mountain, alpine-living, amazingly close to Las Vegas but up and away from the desert floor (20 minutes from town's edge). Located in Toiyabe National Forest. Leave the time clock and stress of the city as you head home each day to reconnect. This lifestyle surrounds you with nature. Experience tall pine trees, panoramic mountain views, four-season weather with cool summers away from the heat of Vegas, yet mild sunny winter temperatures. Full-time or part-time living, approximately 20 degrees cooler. Within Mt. Charleston are the areas of Kyle Canyon, Deer Creek and Lee Canyon.
Mt. Charleston Real Estate Summary:
In the pines lifestyle on primarily approximate 1/4 acre, 60'x80′ or 50'x50′ lot sizes (lots vary in sizes—some larger). A good selection of homes and building lots exist at any time. Homes priced from the high-$200's to over $4 million. Building lots or acreage priced from the low $100's to approximately $700,000. Homes from approximately 360 sq.ft. to 7,000 sq. ft. Direct hard-wired electricity or off-the-grid systems.
Kyle Canyon

Located in Toiyabe National Forest, approximately 20 minutes from the northwest edge of Las Vegas, Kyle Canyon offers an authentic mountain lifestyle with dramatic mountain formations and enchanting alpine forest environment. This area supports approximately 450 properties between four subdivisions, both a full-time and second-home area with all utilities, hard-wired power, two restaurants, nightly lodging, library, elementary school, church, fire and police protection, excellent Clark County snow removal throughout subdivisions, mail delivery, weekly garbage/recycling pickup. Kyle Canyon is approximately 20 degrees cooler than Las Vegas with gorgeous summers and mild winters. An outdoor recreational and wildlife playground offering the amenities, access and proximity for inspired and comfortable mountain living. Invigorating four-season lifestyle. Elevation approximately 7,000′ to 7,700′.
Lee Canyon

Located in Toiyabe National Forest, approximately 35 minutes from Las Vegas with similar pristine surroundings of Kyle Canyon. This area offers tranquil, secluded mountain getaway cabins and homes. Two gated subdivisions are located in this area, as is Lee Canyon Ski Resort. The area homes are powered reliably by solar, batteries, generators and propane for comfortable, convenient living. Pure mountain lifestyle. Elevation approximately 8,000′ to 8,500′.
Deer Creek

Located in Toiyabe National Forest in Mt. Charleston, approximately 35 minutes from northwest Las Vegas. This rugged area can be found about two miles on a dirt road, high up elevation-8,500-9,500′ in the Spring Mountain Range. 2.5 and 5 acre parcels. Arguably the most private and pristine available in the area. Bristlecone pines and wildlife abound. Off-the-grid, mostly pitched topography with three season only access (for most). If you're up to the challenge, the rewards are high.
BUYERS AND SELLERS NEED AND DESERVE EXPERT MOUNTAIN AREA REPRESENTATION WHEN BUYING OR SELLING MOUNTAIN PROPERTY.
Mt. Charleston Realty, Inc. is your best choice to assist you.

The Tomashowski Family has been providing specialized mountain real estate services for nearly 30 years. They authentically sell the mountain lifestyle they live daily.
For buyer's and seller's protection and peace of mind, knowledgeable and experienced mountain area representation is vital for full understanding of challenging circumstances often encountered in mountain area purchases. The owners of Mt. Charleston Realty, Inc. have been full time mountain residents for 32 years. They can provide the mountain expertise, knowledge and experience buyers and sellers need and deserve because they are the only company that has assisted in literally hundreds of mountain transactions (many more times than any other company).
Often mountain properties have challenging circumstances not encountered in city sales such as boundary line issues, septic systems, encroachments, permits, etc. The unique sales experience earned by Mt. Charleston Realty's hundreds of mountain sales transactions provides buyers and sellers needed insight and liability protection regarding the property of their choice.
Work with Mt. Charleston Realty, Inc. owners and Broker directly as they provide buyers and sellers with experience and insight when introducing mountain properties. They can bring to attention property nuances with intelligent solutions and options to concerns or questions buyers may have about any area property.
Buyers and sellers receive professional mountain property representation regarding communication, negotiation, being present at all recommended inspections, escrow knowledge and follow through until closing.